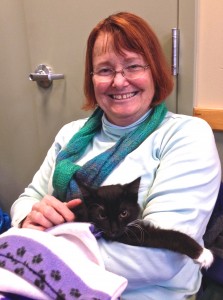 Meet Jean – A champion foster caregiver
When you ask Jean why she is a foster mom the answer is simple – she is saving the life of a cat or kitten; but she is quick to acknowledge the huge emotional benefit she enjoys when the "cats express gratitude and affection." And, Jean says, "Loving cats is great; being loved by cats is even better."
Jean got involved with the Guardian Angels Cat Rescue (GACR) when she adopted one of their cats. Someone mentioned the need for foster families, and she realized that it was a natural fit. She'd grown up on a ranch in California and watched her mother rescue many stray cats and dogs. The dogs went to a rescue shelter and the cats to the family's barn. With the encouragement of her husband, Jean took the leap and become a foster parent. That was about 2 years ago and today she is happily balancing her busy life with the activities of fostering cats and kittens.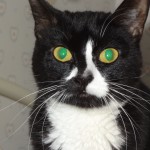 The number of cats or kittens Jean nurtures at any given time varies depending on many factors including the needs of the animals taken in by GACR and, equally important, what works for her schedule. Yes, Jean does take vacations!
The analogy Jean gives for fostering is the "Underground Railroad" a short-term place to stay and survive to get from an unhappy life to a happy life. A homeless cat could stay a few days or up to several months, but all have sanctuary until they are ready for their new life.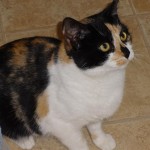 As a champion foster caregiver, Jean does much more than just give the cats a place to stay and provide a clean environment with healthy food. The cats' physical needs must be attended to. As she says, "wiping runny noses is just part of the job!" But what really makes a difference is the time that she spends socializing with them and getting to know their personalities. This allows her to provide valuable insight to the Adoption Coordinators who can then plan the most appropriate permanent placement for each cat. She monitors their eating habits and makes sure they use the litter box appropriately. She observes how physically active they are and if they vocalize a lot. She even has kids in the neighborhood come and play with the cats and kittens to see if they will make a good fit for a family with children. This information can be used to determine if a cat needs a large or small living space, a large or small family, a companion cat or a friendly dog, etc.
Jean loves what she does and highly recommends becoming a foster caregiver.