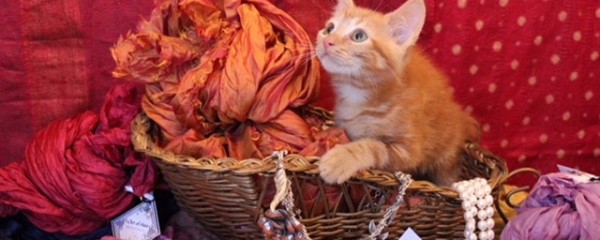 Please Join us as we "Shop to Save Lives".
You can give "Double Blessings" with your holiday gifts this year!  When you buy a gift at the Guardian Angels Holiday Boutique you get a great present for a loved one and save a cat's life.
The Holiday Boutique offers a wide range of beautiful jewelry, colorful silk scarfs, purses and accessories imported by Susan Judy, owner of Out of Asia, LLC.  Each gift is wrapped in beautiful handmade Thai paper packaging and part of the value of each sale is donated to Guardian Angels Cat Rescue.
Rescue experts, Kim and Susan, and a nest of adorable kittens are waiting to greet you at the holiday boutique open house.
So join us any time between 4 and 9pm on Thursday, November 29th for an enjoyable night of shopping and visiting with the Guardian Angels.  Refreshments will be served.  Bring a friend!
The Holiday Boutique will be at 5 Cobblestone Circle, Wayland, MA.
If you cannot make the fundraiser and want to help the cats you can donate on our web page.  All the money we raise goes to help the cats.